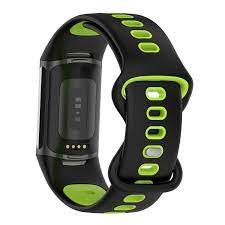 Black/Green Strap for Fitbit Charge 5
Regular price $21.00 Sale
BLACK FRIDAY SALE – BUY 1 STRAP GET 1 FREE –Use Code BLK-FRY
Just add 2 Straps to basket & apply code
Mix and Match all products site-wide
BLACK/GREEN REPLACEMENT WRISTBAND FOR THE FITBIT CHARGE 5

Why not change up the look of your Fitbit Charge 5 and transform its look into a brand new model every time you leave your house. Whether you are looking to update your current Fitbit Watch Strap or if you are to looking to add a few more colour options to your collection. These wristbands are a great option that allows you to pair up with more outfits. Whether you need a new colour to match with your newest gym outfit or your out and about weekend attire could do with a fresh new strap to compliment it, you will always find the strap you need with us. 
Always ensure that you keep your Fitbit Charge 5 safe 
The Charge 5 watch straps have been hand crafted with stylish comfortable material of the highest quality ensuring optimal comfort on your wrist. Not only are they built for optimal style and comfort, our custom designed metal connectors have been specifically designed to fit the Fitbit Charge 5 and will always ensure that your fitness tracker is kept securely connected to your wrist. With these secure connectors in place you can go ahead with the monitoring of your fitness without the worry of your device coming loose from your wrist,  the only time it will ever come of is when you choose to remove it. 
Fitbit Charge 5 Strap Sizing Information
The replacement sports wristbands are adjustable in length and have been designed fit small and large wrist sizes (wrists size 5.5"-8.1")
Please note that these Watch Straps are not interchangeable and will only be suitable with the Fitbit Charge 5 Device, they will NOT fit any other version of Fitbit Device.