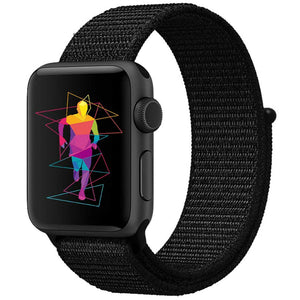 Black Nylon Apple Watch Strap
Regular price $25.00 Sale
BLACK FRIDAY SALE – BUY 1 STRAP GET 1 FREE –Use Code BLK-FRY
Just add 2 Straps to basket & apply code
Mix and Match all products site-wide
BLACK APPLE WATCH NYLON STRAP
When you change up the style of your Apple Watch band with one of our lightweight, breathable fabric Watch Straps you will always do so knowing you have picked the number one way to make sure your watch is looking like a fresh, stylish new watch every time you hook it on to your wrist. Our woven nylon Apple Watch bands not only feel soft on your skin but our original design also features a unique strong and durable velcro locking system that will keep your device safely and snugly attached to your wrist at all times.
Why not switch up the style of your Strap with the ultimate convenience as the simple installation process allows you to change across to wearing your new look within seconds.
Our leather strap is great for evening wear or business usage but if you are looking for a strap for a more sporty occasion such as the gym or playing tennis with your friends then our Black Nylon Apple watch Straps will be the perfect choice.
Apple Watch Strap Nylon Black
Our Black nylon watch Strap will vary based on case size and is available in 2 sizes – (Small -38 mm Large – 42 mm)
The strong velcro clasp connector on all of our Apple Watch Straps has been specially designed in order to make sure your Apple Watch strap stays securely attached to your wrist at all times and never goes anywhere you wouldn't want it to.
Pick and choose from our most Popular straps and find the perfect style to match up to your outfit of choice. Our water resistant, woven fabric, braided solo loop Watch Straps are also the Perfect gift for any of your Apple Watch loving friends or family.
At Fitstraps we stock the biggest selection for every look of Watch Band for an amazing value price. When you shop with us, you can always be confident you will get a premium quality band at an amazing value price. Each suitable band is compatible with every version of apple watches from apple's first release - the Apple Watch Series 1 all the way through to the Apple Watch Ultra, our woven nylon replacement bands cover them all.